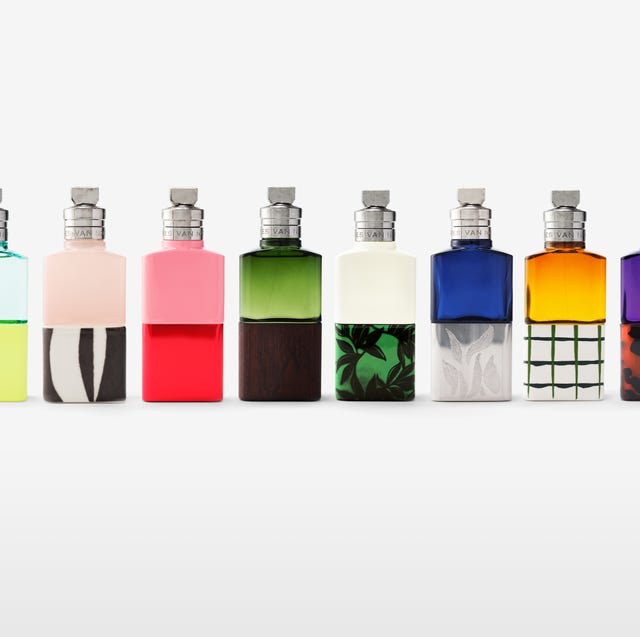 Courtesy of Dries Van Noten
Spring is (finally) on the horizon, and the spectrum of transitional style is sure to bring a wide array of launches. As the ground thaws and flowers begin to bloom, keep an eye here for all of your up-to-date fashion news. From Dries Van Noten venturing into beauty to New Balance's vegan sneaker drop, here's what to look out for—and covet—this month.
1
Dries Van Noten Ventures Into Beauty
Who: Dries Van Noten
What: Debut beauty collection
Where: Available online at driesvannoten.com
Why: Belgian designer Dries Van Noten is a known master of clashing concepts—and the announcement of the brand's beauty collection presents yet another opportunity for him to exercise his talents. Having hosted hundreds of fashion shows, Van Noten has personal backstage experience in creating makeup looks that complement his vision. The collection features vivid lipsticks in eye-catching cases formulated with rosehip oil as well as unique, genderless eau de parfum bottles adorned with patterns that reflect the duality of each fragrance. With Dries Van Noten Beauty, Van Noten cleverly finds an opportunity to insert his juxtaposing designs into each step of the beautification process.
2
Bulgari Teams Up with Casablanca
Who: Bulgari and Casablanca
What: New summer accessory collaboration
Where: Available at select Bulgari boutiques worldwide
Why: Bulgari has partnered with contemporary luxury fashion house Casablanca to create a seven-piece line of accessories made for summer travel plans. The collab, set to launch in two installments, is part of Bulgari's ongoing collaborative series "Serpenti Through the Eyes Of." For the first launch, dubbed "Après Tennis," French-Moroccan creative director and Casablanca founder Charaf Tajer drew from racket bags in order to create a chic contrast between white perforated leather, green accents, and a vintage-inspired wooden handle. The second drop, titled "Mosaic Story," is a direct call to the tiled architecture from the brand's Mediterranean origins. Crossbody bags, handbags, and totes featuring the iconic snakehead charm are all cleared for takeoff on your next flight to a tropical destination.
3
New Balance Introduces the Vegan Friendly MADE 990v5
Who: New Balance
What: Vegan sneaker drop
Where: Available online at newbalance.com and at select retailers
Why: You can now dress vegan down to your toes with the first Vegan Friendly MADE 990v5 sneaker from New Balance. The iconic 990v5 silhouette, which is now celebrating its 40th anniversary, has been recreated using all vegan materials, from embossed synthetic overlays and mesh plugs on the upper to ENCAP in the sneaker's midsole for support and an outsole made of rubber for extra durability. From top to bottom, the Vegan Friendly MADE 990v5 showcases the reliability of New Balance's trusted shoe, as well as the impact of the global vegan movement—all in one stylish, comfy sneaker.
4
Tory Burch and 1stDibs Team Up for Women's History Month
Who: Tory Burch and 1stDibs
What: Exclusive curated collection from female artists and makers
Where: Available online at 1stdibs.com
Why: Though it should be every month, March has been dubbed Women's History Month, and female titan of industry Tory Burch is celebrating the kickoff with a special curation of hand-selected pieces made by women of the arts, all shoppable online via the luxury e-commerce retailer 1stDibs. Through the partnership, 1stDibs is supporting the Tory Burch Foundation, which empowers women entrepreneurs by providing access to capital, education, and digital resources. Burch's picks feature craftswomen and designers including Clementine Hunter, Lucie Rie, Line Vautrin, Gabriella Crespi, and Claire McCardell. "I'm all about an unpredictable mix, whether it's in my home or in my collections: traditional and modern, vintage and current, high and low," Burch says. From mid-century makers to 20th-century trailblazers, ladies all over the map and timeline of female achievement are represented in her collective ode to girl power.
5
Nick Fouquet and Lucchese Head West with New Shoe Collaboration
Who: Nick Fouquet and Lucchese
What: Footwear and accessory collection
Where: Available online at nickfouquet.com
Why: French-American designer Nick Fouquet and Lucchese, the popular Texas-based boot brand, have come together to create a collection of footwear and accessories made in the spirit of the Wild West. On the surface, the collab may not be the most obvious pairing, but Fouquet's penchant for a collective of poets in the cowboy community moved him to design in their honor. Drawing from '70s-era relaxed fits and adding a modern twist, the collection of cowboy boots, silk scarves, and hats are equal parts classic and of-the-moment. Looks like the frontier of fashion has a new sheriff in town.
6
Malone Souliers Announces Bridgerton-Inspired Shoe Collection
Who: Malone Souliers and Bridgerton
What: Collaborative shoe collection
Where: Available at malonesouliers.com starting March 15
Why: Capitalizing on the Bridgerton craze, Malone Souliers is debuting a 14-piece capsule collection of shoes inspired by the lavish looks featured on the hit period drama. The exclusive collaboration in partnership with Shondaland and Netflix celebrates the fashion from the romantic Regency period with lavish pairs for both men and women. According to a press release, the designs will feature intricate jacquards, shimmering satins, and dramatic feathered plumes, reimagining the luxury brand's signature silhouettes as gentry-worthy footwear, just in time for the return of Bridgerton season 2.
This content is created and maintained by a third party, and imported onto this page to help users provide their email addresses. You may be able to find more information about this and similar content at piano.io